Commercial & Industrial Pest Control in Clovis & Fresno
Nothing can shut a business down faster than a pest problem. Whether you're running a school, restaurant, office, hotel or other commercial facility, when you have a rodent, termite, ant or other pest problem, you'll want fast pest control that's done right so you can resume your business operations fast.
Depending on what the environment is and which pests are most likely to thrive there, you can take a course of action to minimize the chances of inviting unwelcome pests. For instance, fruit flies are a common pest found in restaurants, cafes and other places that serve food. Some simple measures can be taken to minimize them, including changing the way you store foods, disposing of certain foods at the end of the day, being more diligent in cleaning up spills and clearing drains more frequently.
Work with us to develop a plan to eliminate any current pests and to prevent them from coming back. If you're a commercial or industrial facility in the Central Valley and you would like a free pest inspection, contact us today to find out how we can help you.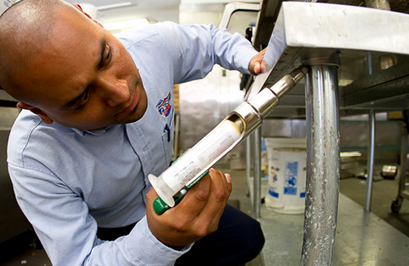 Clovis & Fresno Integrated Pest Management – Commercial & Industrial
OUR SERVICES INCLUDE AN INTEGRATED PEST MANAGEMENT (IPM):
We will meet with you to discuss your business and your specific needs. We will then form a complete inside/outside customized plan by integrating our service with specific things you can do guard against pest and rodent entry into your business.
WE OFFER SEVERAL SERVICE OPTIONS:
MONTHLY
We provide a customized monthly service for your commercial or industrial property.
BI-MONTHLY
We provide a customized bi-monthly service for your commercial or industrial property.
ONE TIME SERVICE
We provide a customized one-time service for your commercial or industrial property to deal with specific pest or rodent control needs.
FREE ESTIMATES: We provide accurate, realistic, and reasonable estimates for your custom designed pest control program.